Discover the New 2013 Dodge Grand Caravan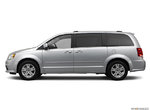 Canada's best-selling minivan for over 28 years. If you want to be the best, you can't stand still. An original from the very beginning, the Dodge Grand Caravan has won accolades from industry experts and Canadian families year after year thanks to a commitment to continuous innovation. The 2013 Grand Caravan continues in that tradition of...
Lasalle Dodge, the most important Dodge dealership in the greater Montreal and south shore region, is proud to present a sample of it's most recent Dodge cars and trucks. To see our entire collection, simply use the link at the bottom of the page or the main menu for our newest vehicles. Enjoy your shopping and send us a question to begin the best buying experience of your life!