Discover the New 2013 Dodge Challenger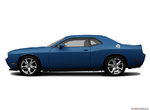 Classic muscle car styling with 21st-century technology. The legendary Challenger name isn't something to trifle with, and it's a name this re-engineered classic lives up to in every way – the lean, ready-for-action profile, the hardcore power, and the thrilling, dynamic handling. It's a true classic reimagined for the 21st century. It's also a...
Lasalle Dodge, the most important Dodge dealership in the greater Montreal and south shore region, is proud to present a sample of it's most recent Dodge cars and trucks. To see our entire collection, simply use the link at the bottom of the page or the main menu for our newest vehicles. Enjoy your shopping and send us a question to begin the best buying experience of your life!